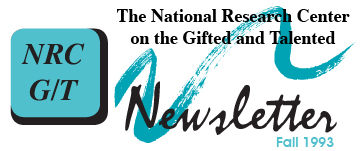 E. Jean Gubbins
The University of Connecticut
Storrs, CT
All of the researchers associated with The National Research Center on the Gifted and Talented have been paying particular attention to their ability as wordsmiths as they cast the complex findings of applied research studies in different formats for multiple audiences. We write research monographs, journal and newsletter articles, briefing sheets, executive summaries, and practitioners' guides about the issues in educating gifted and talented students. The amount of paper that passes through laser printers and photocopiers is absolutely phenomenal. We are on a first name basis with the people who repair the machines; oftentimes they just stop by to see how things are going because they know the machines are operating around the clock.
The only people who approach our office tentatively are from the central warehouse and the university mail room. Their level of tentativeness is based on the number of crates of paper to be delivered to keep the photocopiers running or on the number of pallets of mail to be hauled to the mailroom for postage. A steady stream of people schleps the latest NRC/GT documents emblazoned with the university seals from one place to another. NRC/GT members join the parade which begins to look like an old-fashioned fire brigade as containers pass from one person to the next. Getting the word out about NRC/GT's applied research has been a high priority since the early days of the Center. We didn't want the research results logged into journals or magazines and then placed on bookshelves without grabbing the attention of readers. We wanted educators to read the documents and to apply the findings in their classrooms. Joseph S. Renzulli, Director of NRC/GT, designed a dissemination plan that rivaled those of marketing experts. The plan is essentially a "chain letter approach." We send documents to all the people in our network; they in turn disseminate them to others.
It is great that all of the documents are getting out to you and that they are once again hitting the glass surface of a photocopier to be shared with others. Tracking the number of people who receive our documents or who reprint them in their local publications is one way of determining the impact of the Center. Millions of people from all states, several territories, and a host of foreign countries have access to our documents! Now we are gathering data on what you think of the "written word." We have been randomly placing Reader Evaluation forms with our mailings, and we thought that we would take the liberty of sharing some reactions with you. We asked people what they learned, how they used the information, and whether the information had any impact on their students. Here is a sampler of their responses:
Please list two new things you have learned from reading the document.
Benefits of "Creativity" for disadvantaged youth. Materials for developing creativity.
– Richard E. Chandler, Arlington, TX
That it's possible to summarize a big and important topic in concise and elegant format.
– Rena Subotnik, New York, NY
When teachers eliminate as much as 50% of curriculum for gifted children there is no difference in achievement test results.
– Ed Hinckley, Avon, CT
I will pretest my gifted students and allow them to opt-out (full or part time) of team work in math and/or reading and check their achievement the first 9 weeks of school. This will allow ability grouping and compacting.
– Joan D. Bodkin, Henderson, KY
My wavering faith was confirmed that some people in academia have their feet in the real world. I am so glad that a "Research Center" is able to see the real problems and address them in plain (thank you) English.
– Gina Ginsberg Riggs, Glen Rock, NJ
Briefly describe how you have used the new information in your present role/position.
Provided information to school administrators and school committee. As PTO president and parent representative, will share with other parents and place information at the parent information center at the public library.
– Kathy Borges, Somerset, MA
Will share with principal, city-wide G/T program. With administrator's permission, will duplicate (Ability Grouping) and share with teachers and parents.
– Josephine C. Baker, Washington, DC
Everything that you send has been shared with our statewide task force on gifted education that meets monthly and consists of parents, teachers, administrators, and community members. Some students attend at times. People select information of interest and use it in their local districts.
– Roberta Knox, Santa Fe, NM
I will be able to use this information when counseling parents of gifted children in possible approaches to their children's education, as well as in presentations to school personnel regarding approaches to serving gifted children in the classroom.
– Barbara Louis, New Brunswick, NJ
I have used the reports/papers as readings for students, as resources for advocates, and as references for my work. Nice job on topic selection and authors. I have also posted information on Special/Net.
– Mary Ruth Coleman, Chapel Hill, NC
The next level of dissemination is to assess whether the information has had any impact on students. We asked the following question, and we are beginning to see some preliminary results:
Has this new information had any impact on your students?
The information distributed by NRC, the research projects that local school districts have participated in, and the impact of Sally Reis's presentations at state conferences have changed programs.
– Conrad Castle, Jackson, MS
I have drawn many ideas from the monographs for use in my G/T and creativity books.
– Gary A. Davis, Madison, WI
It will this September! Past articles have changed the way I think and present lessons! Thanks so much!
– Sally Clemens, Bend, OR
It's nice to have your views/opinions of 15 years validated by research data. Helps me continue my G/T advocacy.
– Charlotte A. Candelaria, Sitka, AK
Has had impact on provision of information to coordinators in the field of gifted education. Next step for NRC/GT is to disseminate to other fields.
– Nancy B. Hamant, Worthington, OH
Keep it coming-it may…in the future be helpful.
– Juli Schenfeld, Johnstown, PA
This year's class promises one of the greatest achievement spreads in my experience. Yes, I believe you've given me ideas to explore.
– Joan D. Bodkin, Henderson, KY
Paper is only one form of communication. We also use satellite presentations, electronic mail, television, and radio. On any morning you might hear Joe Renzulli or Robert Abelman on National Public Radio or see a teleconference on cable television. Just keep tuning in. We will continue sending messages about research-based issues in gifted and talented education, and we hope to hear more from you about the impact of our research on your students or other constituents.